Tree removal is perhaps the most dangerous aspect of the arboriculture industry. It requires a great deal of training and years of experience. Most importantly, it requires strict adherence to all industry safety standards.
Here at High Peak Tree Removal we are highly trained in the practice of tree cutting and removal. We have the expertise, experience, and working knowledge necessary to handle any tree removal project in the Warren, Washington and Saratoga County Areas.
But for us, simply removing a tree is not enough. Throughout the process, we strive to cause as little disturbance to your property as possible. In addition, we thoroughly clean up after each project. We know that you spend time and money to keep your property looking beautiful, which is why our goal is to leave it looking as good or better than it did before we began.
Because of the complexity, risk, and cost involved with tree removal, it is always worth considering possible alternative tree care options.
There are a number of common situations where tree removal is usually necessary. Here are some of them:
Dying trees: Dying trees can often be cured through root collar excavation, soil management, pest and disease control, and other tree care services. But in the event that this is not possible, early removal of the dying tree is necessary.
Dead trees: Dead trees are dangerous and should be removed immediately. Dead trees will shed branches and are more susceptible to falling in a storm, thus they pose a threat to your property and personal well-being.
Heavily damaged trees: A tree with heavy damage means that it is more susceptible to disease and more likely to die. If it cannot be fixed, the damaged tree must be cut down.
Hazardous trees: Leans, hollow spots, and weak root bases are just a few of the indicators of a potentially hazardous tree. Such a tree should be carefully evaluated by one of our Tree Care Specialists. If it truly poses a threat that cannot be mitigated except through removal, it should be cut down.
Trees in the wrong location: Trees that are too close to houses and other structures, or certain species of trees planted in the wrong location, are all candidates for removal. Trees of this nature pose threats during hurricanes, tornadoes, strong thunderstorms, and during ice and snow accumulation. After all, if one of these trees loses branches or falls over, it is likely to cause costly damage. These trees can also cause damage to foundations, lift sidewalks, lead to mildew on siding, rub paint off structures, clog gutters with leaves, provide a path for squirrels, ants, and other critters to get into your home or business, and much more.
Construction/landscape project: If you are adding an addition to your house, expanding the parking lot at your place of business, or embarking on any number of other construction or landscaping projects, tree removal is often a must in order to create open space.
Tree thinning: Thinning out trees is important for a number of reasons. First, by cutting down some of the trees it creates more room for others trees to grow and flourish. Second, it allows for better airflow. Third, more space allows for greater sunlight penetration. Last, it can help reduce available breeding ground for mosquitos and irritating insects.
Aesthetic purposes: Cutting down select trees, removing problematic trees, and cleaning up existing trees can greatly enhance the overall beauty of your property. This will also increase property value.
So whether you have a simple tree cutting task or a complex, multi-day tree removal project, contact High Peaks Tree Removal today at 518-668-9601 or e-mail us at highpeakstreeremoval@gmail.com.
---
TREE AND SHRUB REMOVAL
At High Peaks Tree Removal we are committed to safety. Our crews are well trained and well equipped to safely remove trees of all sizes and conditions.
Tree removal is very dangerous, and should only be done by experienced professionals. You can trust our fully certified and licensed contractors to tackle any tree removal job using the latest technology and the highest level of precision for your yard.
High Peaks Tree Removal team is professionally trained and fully insured with general liability and workman's compensation coverage.  We are glad to provide a copy of our insurance and coverage to give you added assurance. Please contact us for your copy of this documentation.
---
CLIMBING
Many trees from 130 ft. pines to willows, can be taken down by climbing them. Wearing the proper gear, an experienced climber is able to climb the tree, cutting the limbs off as he goes. When he has come a reasonable distance from the top, he cuts it off. The tree can then be removed piece by piece by the climber, or he can climb down and fell it.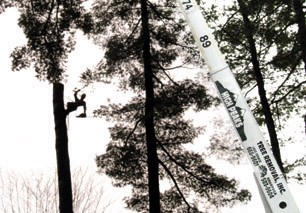 ---
CHUNKING
Chunking, or taking a tree down piece by piece is usually done when there is no room to fell a tree or the customer prefers not to have an entire tree fall. It can be done from the bucket truck or by a climber, either with a rope attached to the piece if there are delicate things below the tree such as flower beds, landscaping, or walkways or it can be done with out a rope if this is not a concern.
---
FELLING
Felling is a fast and easy way to remove a tree if there is enough space. It involves tying a rope to the tree, notching it near the bottom, and sawing through the notch while another person pulls the rope to hold the tree while it falls. Sometimes the tree can be felled with the limbs still on it. At other times, the tree must be delimbed and felled so as not to destroy other trees or property.
---
So relax and let us do the dirty work!
No matter the reason you need a tree removed, we can help quickly take it down, chip it up, and haul it away for you all in the same day. Whether you own a commercial or residential property, you can count on us to trim or remove your trees at an affordable price.